Alabama Parents are Grateful for Educational Choice Programs
by
By Kimberly Sawatka
As Alabama parents celebrate the start of a new school year, more of the state's students are attending the school of their parents' choice thanks to the Alabama Accountability Act. In a recent parent satisfaction survey by the Alabama Federation for Children and the Alabama Opportunity Scholarship Fund, a scholarship granting organization, results showed parents are largely satisfied with the Alabama's school choice programs.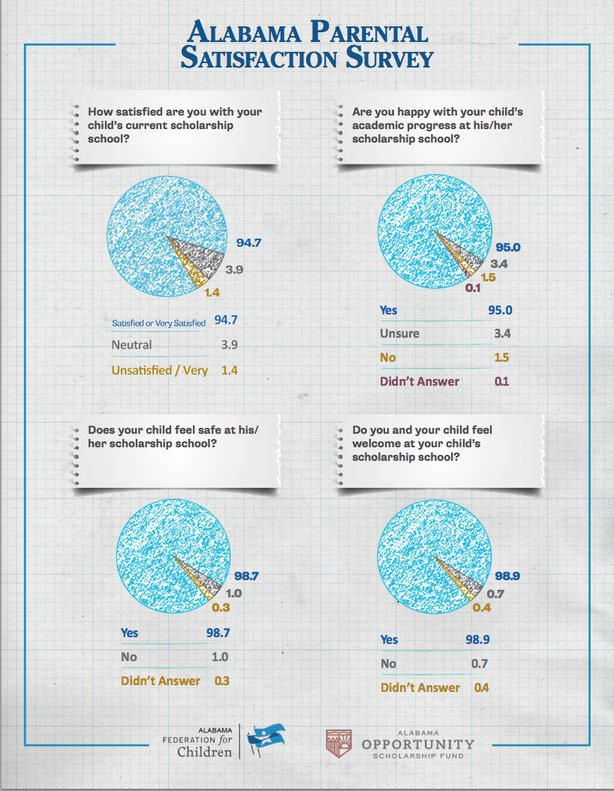 Alabama lawmakers enacted the Alabama Accountability Act in 2013 to allow low-income children in the 56 failing schools across the state to attend a school that best fits their learning needs. The program also provides an opportunity for students outside of these failing schools to participate after failing school students have been served.
Soon after its creation the program was attacked by the state's teacher unions who claimed the program violated the state constitution. Earlier this year the Alabama State Supreme Court ruled in favor of the program, overturning a previous county circuit court ruling. Students were able to remain participants in the program while the case made its way through the court system.
Last year, approximately 3,000 students participated in Alabama's choice programs. Parental satisfaction is one of the most valued attributes of an educational choice program. Enrollment is expected to grow considerably over the next couple of years.